The world praises the beauty of Versailles garden. By the way, do you know that Korea also has a beautiful royal garden which will fascinate everyone in the world?
> (Source: Korea Tourism Organization)
Royal garden is not well-known even though it is truly beautiful. What is the reason? Is it because the garden was a forbidden place which only allowed King and Queen? Royal garden is believed to be the best of Asia. Let's take a closer look at gardens in Royal palace.
The Garden of Changdeok Palace, Hidden Beauty of Joseon's Gardens
Huwon, the backyard garden of Changdeok palace, is a model of garden culture of Joseon dynasty. Considered the best garden in Joseon and harmonized with nature, Huwon has a fundamental frame of Asian garden style and a variety of plants and spring water. It is simply the best garden of Korea.
Changdeok palace is located in natural hillside of 198,000 square meters and that nature of garden is more beautiful. Huwon is built by Yin-Yang element theory. Called northern garden or forbidden garden, Huwon starts from the hill of Kajeongdang.

< Autumn of Buyongjeong, Garden of Changdeok palace > (Source: Korea Tourism
Organization)
Probably the best known garden in Changdeok palace is Buyongji. In the middle of pond which is 28.4 m wide and 34.5 m long, there is a pine tree. The garden is made by Yin-Yang element theory that says "sky is round and earth is square". Two pillars of Buyongji are put into water. It is considered as human who sticks to earth and looks at the sky. Yeonghwadang stands over the altar named Sajeongbigigak in the west and Chundangdae in the east. In addition, Chuhabru is located over five story flower steps in the north. Depending on your angle you could see some changes because each structure has a different size, shape and height.
You will meet forever young gate as you pass by Yeonghwadang. After the gate you will see Aeryeonji which means lotus flower pond. Unlike Buyongji, there is no island in the middle and the pond is surrounded by rocks. It is very unique style that water flows just as waterfall.
Aeryeonjung is a pavilion which was made at 18th year of King Sukjong. Its eave is longer than other structures. In addition, there are carp-shaped roof tiles. This architecture is based upon Yin and Yang element theory that water prevents fire. Each side of pavilion has a floor and windows which make you appreciate the nature.
Natural curve shaped Banwolji is very beautiful. There are Kwanram pavilion and Seungjae pavilion near Banwolji. When you cross the stone bridge, you will meet Chondeok pavilion. The area is surrounded by forest so you may feel comfort.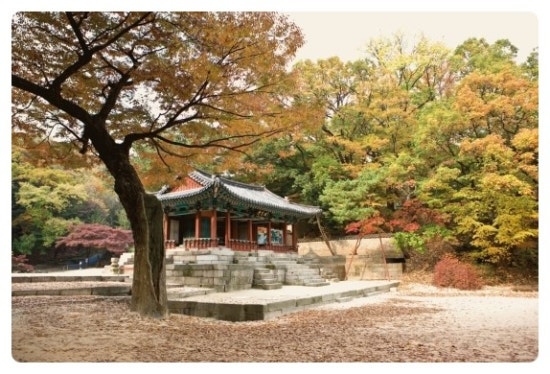 (Source: Korea Tourism
Organization)
You will get to Okryucheon stream as you take a walk over the northern hillside. The stream meets with Changkyung palace. There is spring water called Eojeon which is above Soyo pavilion. Underneath, the spring water rotates and creates a beautiful nature. Okrucheon site is very deep inside in the palace. You may feel pure nature that includes the human arts.
You may wonder if there are any secrets in the Asian garden which is hidden behind those huge and tall buildings.
Hyangwonji and Hyangwonjeong, Garden of Gyeongbok Palace
Gyeongbok palace is the major palace which has 390 buildings and 47 gates. Its garden is not as well-known as garden of Changdeok palace because it is located outside of the palace. It is fair to say that Mt.Bukhan is a garden of Gyeongbok palace which ismore natural and spectacular.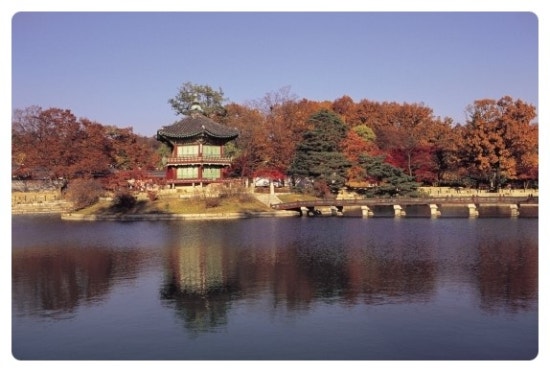 (Source: Korea Tourism
Organization)
Gardens of Gyeongbok palace refer to Hyangwonji site and Amisan site. Hyangwonji is made in the south of Geoncheong palace, which is a pond of 460 square meters. You will find lotus, water plants and carp. There are many trees by the pond such as zelkova, locust, maple, hawthorn, willow, elm and pine trees. Hyangwonji water flows into a pond of Gyeongho pavilion.
There is a round island and Hyangwon pavilion in the middle of Hyangwonji. Hyangwon means the fragrance flying over the sky. Azazlea and maple trees are planted by the pond. The bridge to pavilion is Chihyanggyo meaning amazed at scents. Chihyanggyo is the longest bridge at ponds during Joseon dynasty as a wooden bridge. The bridge was originally located in the north near Geoncheong palace but it is in the south now.
This site is easily found in many of calendars or photo galleries. You can find beautiful scenery when mountain, pavilion and bridge are reflected into the pond. In addition, Asian beauty will be found through whole year.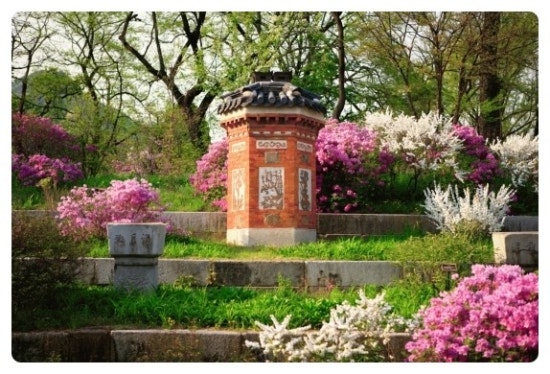 (Source: Korea Tourism Organization)
Amisan garden, which is in Gyotaejeon, the chamber of queen, is made for the queens' spare time. In 1412, King Taejong widened the pond and made Gyeonghoiru for a party for congressmen and diplomats. After digging the soil to make pond, he made Amisan hill garden with that soil. That garden is 55 meters from east to west and 30 meters from north to south. The hill was made and various trees were planted.
Huwo
n of Changgyoung Palace, A beauty of Traditional Garden
Changkyung palace is not as luxurious as others. Did you know there is a traditional garden? It is near Tongmyeongjeon and Chundangji. The garden is located behind Tongmyeongjeon. When you pass through Hamyang gate, you will get to garden of Changdeok palace.
The garden of Changkyeong palace is in the north. Hillside of Tongmyeongjeon and Yanghwadang is good place for the rest.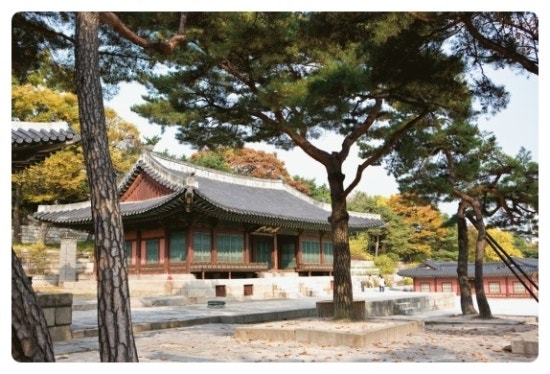 <
Fall foliage of garden in Tongmyoung pavilion in Changkyeong palace
>
(Source: Korea Tourism Organization)
Tongmyeongjeon is a queen's chamber and well-known as a story of Changhuibin and Queen Inhyeon. It was burnt down and rebuilt several times. There is a pond and arch shaped stone bridge. The pond is surrounded by rocks because spring water spilled over in rainy season.

Spring water flows as waterfall through water road made of stone. This pond is believed to be beautiful most. When it was first made, water pipe was made of copper. Later it was changed to stone pipe because coppered pipe is lavish.
When you go deep inside forest after Tongmyeongjeon, you will meet Chundangji with small and big ponds. It was rice paddy but changed to a big pond during Japanese occupancy. We could meet rice paddy of four seasons if it were still rice paddy. This site is well preserved downtown in Seoul so natural monument, love birds visit very often.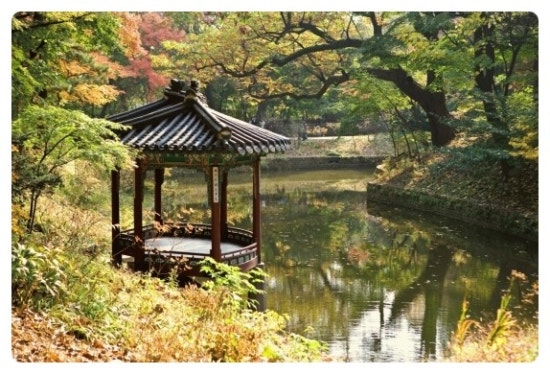 (Source: Korea Tourism Organization)
It is enjoyable to look at the well-managed nature in royal palace garden. However it is more valuable to learn human minds on nature. You will have a glimpse of ascendant's mind which wants to be harmonized with nature. The garden was a healing place for ruling the country through deep thought and meditation.
Please come to see a beauty of Asian garden made of heaven, earth and human all together. When you are stressed out, come to the garden. The King's spirit is still alive in the garden. Their spirits which cared so much about their people will refresh your mind.